As much as we hate to admit it, clocks play a huge role in our lives. Many of us are constantly checking the time because we have somewhere to be. We remember growing up to the gentle tick-tock of a grandfather clock. That clock is now considered vintage but has not lost its charm or appeal. Perhaps you would prefer a clock that just looks 'old' but is really a modern and innovative version of the real deal. No matter where your interests lie, there is a clock for you. Vintage clocks come in different shapes, sizes, and styles. We have found cool and quirky versions of the clocks you remember while growing up. Check out our article to find out about the best vintage clocks and where to find them.
1. Old Faithful Grandfather Clock with A Retro Flair
Tiuku, which means "bell" in Finnish, is made of metal and stands tall on two distinctive legs at over six feet in a lucid design that retains the elements of efficient craftsmanship intrinsic to hanging timekeepers.
We earn a commission if you click this link and make a purchase at no additional cost to you
We would be remiss if we attempted to talk about vintage clocks and did not give a much-deserved nod to the grandfather clock. These free-standing clocks have been a traditional clock for many generations. They are often passed down through families. There is so much to love about the standard grandfather clock. They often bring up memories of a warm childhood. They are not exactly the hippest clock that you will find. They tend to look stuffy and incredibly traditional.
That is until the Tiuku Standing Pendulum Clock. The great thing about this clock is the simple design. It maintains the structure of a traditional grandfather clock with urban utility. This is a move away from the ornate design typical of the grandfather clock with a heavy focus on minimal design.
We love that this clock is over 6 feet tall and still captures the eye of anyone that walks into the room. It has the traditional swinging pendulum but is not completely encased in wood as you have come to expect.
This version has a long look and stands on two distinct legs, however, this version also leans at an angle and can lean against a wall.
2. Retro Mint Meet Your Favorite Bird
Contemporary Cuckoo Clock in Mint We all love a cuckoo clock, this is a lovely modern version of the traditional quirky clock. Battery: 1AA + 2AA | Dimensions: Height: 40cm, Width: 21 cm.
We earn a commission if you click this link and make a purchase at no additional cost to you
We cannot talk about retro clocks without mentioning the cuckoo clock. This little guy has been around since the early 1600s, but never this cute. This clock is sure to be the statement decoration that your home needs.
We love it because it is fun and quirky. There is no better way to know when the top of the hour has hit than with the sound of the cuckoo call.
The Mint Cuckoo Clock from Trouva does it with style. It has indeed taken a step away from the ornate design that you may be used to seeing with a cuckoo clock, but one look at this clock and you will be sold on this more muted styling.
3. Mantel Clocks
Our bestselling Echo wall and alarm clock collections are completed by the colourful 'M' Mantel for 2019. Available in a range of playful colour options, this modern matt-finish mantel case holds a minimalist graphic dial. The contemporary design is ideal for adding a pop of colour to the desk, mantelpiece or shelves.
We earn a commission if you click this link and make a purchase at no additional cost to you
The mantle clock has always been a go-to because of its affordability. They rose to popularity because they were inexpensive to make and fit well on a shelf. They are a combination of decoration and practicality all in one.
They have come a long way as they are powered by batteries and no longer require winding. Burke Decor offers a hip version of the sleek styled mantel clock in a playful aqua color.
This clock adds a splash of color to your desk, mantel, or any shelf in your house. This clock has a modern twist with its matte finish and minimal dial.
No longer are you held down by the classic wood styling in a mantel clock. This acrylic and silicone encased clock dare you to try something new.
4. Dots Wall Clock
This Clock is going to turn up the fancy on that plain Jane wall of yours. Features include mounting hardware and printed front featuring gallery artwork.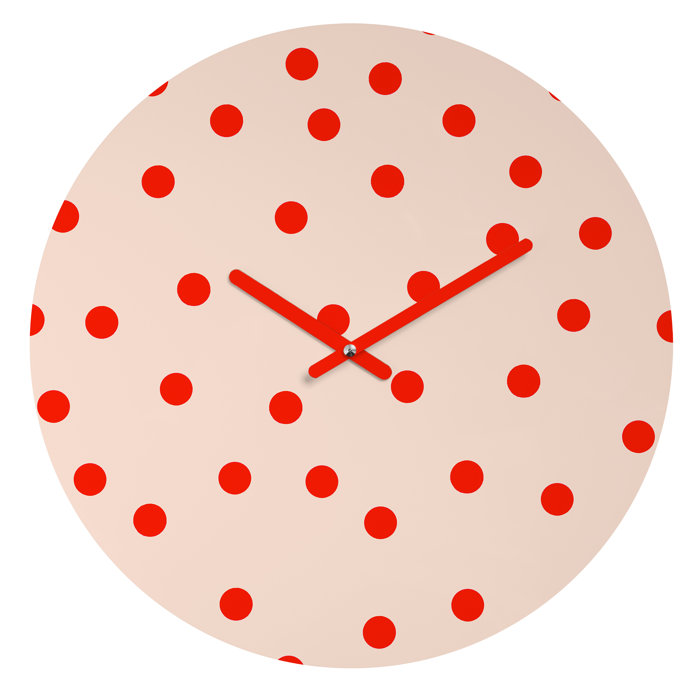 We earn a commission if you click this link and make a purchase at no additional cost to you
Wall clocks are some of the most fashionable vintage clocks. They were some of the earliest style clocks to be used in homes.
The term wall clock is an overarching term because many different styles fit into the wall clock category simply because they hang on a wall.
The East Urban Home Dots Wall Clock is perfect for small, bare spaces. This clock really turns on your room. This clock may look old, but it is built with the highest quality products you can find today.
The red dots stand out and will not fade over time. This wood clock is a perfect addition to your kitchen space because it draws attention to itself.
5. Old School Wall Clock
Pamper the interiors of your living area with nostalgia and get the Bai Design 9.8 School Wall Clock. Reminisce the fond memories from your school days with this antiquated wall clock. Designed with retro and vintage accents, the wall clock will transport you to your childhood days. Built for functional purposes, the wall clock will add a dash of charm to the walls of your home.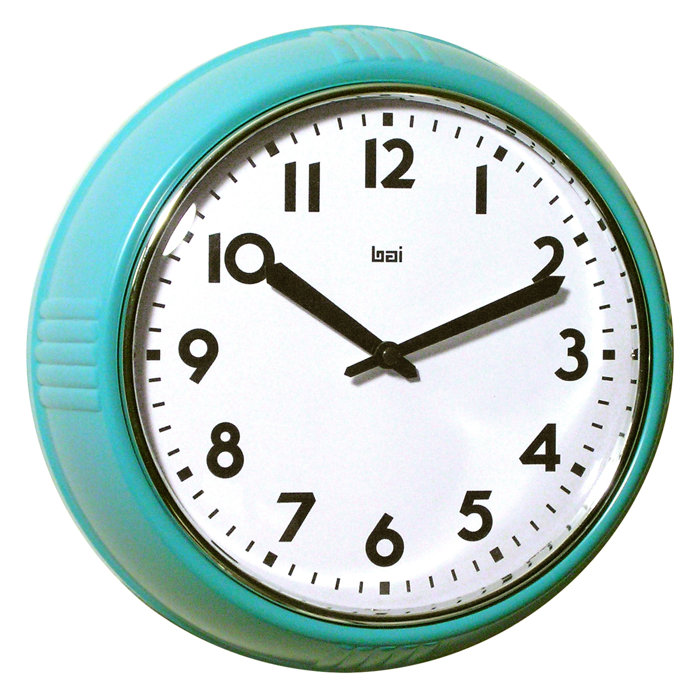 We earn a commission if you click this link and make a purchase at no additional cost to you
What can be more hip than taking you back to school? Wall clocks span many styles and this classic clock from school brings back all the feels. We spent countless hours watching time tick slowly by, as we are sure you did, too.
This simple design comes from Bai Design and it fills you with nostalgia for middle school. Ok, maybe not middle school, exactly, but of times gone by. This 9.8-inch clock has the classic styling of the clocks that hung in every classroom.
This clock will add charm to your house. It looks vintage but is made with modern materials, including an ABS thermoplastic frame that is spray painted.
The hands of the clock are still metal.  The minute and hour hands are big and bold and you can see them from across the room. Another updated touch is the quartz movement promising you efficient timekeeping.
6. Barber Shop Wall Sign Wall Clock
What is more retro than a Barber Shop clock? This is not a clock that you would have typically seen in a Barber Shop, however, it is reminiscent of one. We believe this clock is a must-see. AiEnmaw did an amazing job creating this retro-style clock.
We love this clock because it is so unique. This clock is made completely out of a vinyl record. This 12-inch vinyl has been transformed to take you back to the days of the community Barbershop.
The clock face sits in the middle of the record and it is a sticker. It is not cut into the vinyl. The rest of the clock is. The hipster, a bearded barber is ready for action with his scissors and clippers.
This clock will steal the show in any room, but it is especially perfect for a man cave. Even though the clock is made from a record, it is completely silent.
7. Vintage Amp Wall Clock
A timekeeping tribute to electric guitar amplifiers of the 1950s with a customizable nameplate. Made from aluminum, antique brass, baltic birch plywood, quartz clock mechanism, vintage-style tweed grilled cloth, sugar pine wood, oxblood grill cloth, polished stainless steel.
We earn a commission if you click this link and make a purchase at no additional cost to you
There is nothing hipper than a shout out to the music industry and the impact it has had on our lives for a long time.
This clock is a throwback to the amplifiers that were used for electric guitars in the 1950s. The 1950s were a transformational time for music and this amp clock is a reminder of those times.
It is made from pine and birch wood serving as a copy of the face of the narrow panel of these amps. This clock also uses aluminum, brass, and a tweed cloth for the grill.
The Uncommon Goods Amp Clock is customizable as the nameplate can be changed to say anything you would like. The movement is precise and brass dots indicate the hour.
This clock is a great addition to a music room or any other entertainment room. It will grab the attention of anyone walking into the room.