If we're speaking hipster, you won't find something more catchy than a vintage thermos that matches your gear, style, and outfit.
However, when it comes to such gadgets, modern ones will always have better stats in terms of functionality.
If you want to keep rocking your style, it has to also get the job done right. In the following article, you'll find some of the hottest thermos styles that you can actually rely on all the while looking awesome!
Finding vintage thermoses that work isn't a walk in a park. For that reason, we've compiled a list of the best vintage and hipster style travel mugs that will give you both the looks and efficiency you might be on the hunt for.
Hop in the Throwback Train
Whether you're waiting for Old Faithful's next performance or just waiting for your next meeting to start, keep you favorite hot or cold beverage at hand with these insulated bottles inspired by four beloved National Parks. Each one is decorated with iconic aspects of its park—wildlife, geographic facts, and natural wonders like El Capitan and the Appalachian Trail. Their double-layer stainless steel construction keeps drinks cold for an amazing 24 hours or hot for 12. Wide enough to admit ice cubes, the design also features a swing-top cap that stays put while you sip. The no-slip silicone bottom helps prevent spills and protects tabletops. 18-ounce capacity.
We earn a commission if you click this link and make a purchase at no additional cost to you
Nostalgia works better than you think when you use a vintage item. It sends you and everyone around you on a throwback trip to when you first saw it.
One of the best ways to trigger nostalgia is by opting for a full-on stainless steel thermos bottle with inspirational prints.
This style is extremely popular among hipsters because it looks and feels old school but still packs the functionality of the modern-day thermos without a problem.
If you're looking for an item that delivers this quality while suiting a modern environment perfectly, check the National Park Explorer's Thermal Bottle.
While it's decorated to feature the iconic elements of national parks in stainless steel finish, it also has all the modern features you can find in a modern thermos.
This includes double walls of insulation to stay cold or warm, anti-slip silicone bottoms and large 18 fl oz capacity, so you don't have to refill it so often.
Rock the Classic Look with Modern Day Functionality
Cook Pro 14 oz Stainless Steel Travel Mug. Ergonomic, comfortable, and an excellent container for everyday use. Can hold up to 14 oz and has a twist on lid, with button press for easy and leak proof use. Featured in multiple colors for the silicone grip and ideal for hot and cold beverages.
We earn a commission if you click this link and make a purchase at no additional cost to you
One of the most important qualities for functionality while discussing a good thermos is anti-slipping.
While handles are in for the hipster season, some still prefer a vintage thermos but without a handle all the while having something to grab on while holding warm beverages.
That's where the classic look of stainless steel thermos mugs with silicone grips hops in for the rescue.
Hipsters love that style because, just like the National Park Thermos style, this one also gives you space for modern features in a vintage body!
If you're all about that style, check the Cook Pro Travel Mug on Wayfair. It has double-wall insulation and anti-sweat and slips silicone grips that make holding the thermos a lot more comfortable. The best part is that it's fully dishwasher safe, including the lid as well!
Try a Ceramic Thermos
This ceramic Winston Porter Jeffers 17 oz Travel Mug has a special artisan series design. The 17 oz. cups are white with an artful desert dune design. It is top rack dishwasher safe and microwave safe.
We earn a commission if you click this link and make a purchase at no additional cost to you
Fortunately for hardcore hipsters, thermoses and travel mugs come in a wide variety of materials and not just stainless steel.
One of the materials that give you an instant vintage impression is ceramic. It never failed to present itself as an oldie yet efficient style in various gadgets.
Ceramic is also great for artistic people who prefer to display the things that inspire them. If you're looking for excellent ceramic thermoses, go for the Winston Porter Jeffers Travel Mugs.
In addition to being dishwasher safe and extremely handy, they're hand-crafted with tons of artisan designs that put them head and shoulders above the competition when it comes to ceramic mugs.
Make a Positive Political Statement With Your Mug
Send out the important reminder to vote just in time for election season with this on-the-go mug, which keeps drinks hot or cold for up to five hours.
We earn a commission if you click this link and make a purchase at no additional cost to you
The election season is coming?
Make sure that you leave a positive political statement and a friendly reminder for everyone to vote with this Vote Travel Mug on Anthropologie.
Keep in mind that this isn't the greatest travel mug when it comes to functionality, as it can only retain the temperature of your drink for up to 5 hours. It's also hand-washable only, which makes it ideal for occasional weekend outings rather than workdays.
Give Floral Designs a Go
This double-walled tumbler offers all the benefits of stainless steel and can be enjoyed with legendary and beloved exclusive Tervis designs. Splash-proof, shatter-proof and easy-close lid. Up to 24 hours ice cold or 8 hours piping hot. Comes with a standard lid and a Limited 5-Year Guarantee.
We earn a commission if you click this link and make a purchase at no additional cost to you
Floral design is a big YES for hipster style gadgets. They always maintain a good mix between casual and vintage looks without going overboard.
What's nice about classic style thermoses and travel mugs is that the ones with flat surfaces give you the ability to enjoy exquisite floral styles while enjoying the benefits of stainless steel.
You can easily find these qualities in one of Tervis Tumbler-Style Floral Thermoses. Tervis is one of the leading manufacturers of thermoses, so you can guarantee the quality and functionality of this hip vibe thermos.
It's also free of toxic and dangerous plastics like BPA, which causes a lot of health issues for the brain and men's health.
Bring Back the Lumberjack
In the last few years, hipsters have brought some original styles back to life. One of the best styles that worked out great, especially for men, is the lumberjack plaid look.
The classic red and black plaid style channels a rugged vibe that has become super trendy.
The checkered style also made it to Hollywood, with superstars like Chris Evans and Ryan Reynolds rocking the woodsy look.
So, why not have a thermos that stands out in these super catchy and iconic color combinations?
Introducing one of the best thermoses that aced the black and red checkered aesthetic, the Wamika Checkered Thermos.
Besides looking ultra-amazing, the bottle has an excellent capacity that makes it great for long days at work. It keeps the beverage warm for up to 6 hours and cold for up to 12 hours!
In addition to the checkered look, Wamika offers multiple interesting designs that also fit the hipster bill, such as the marble white and the Paris pink.
Excellent Lumberjack Alternative
If you're looking for an even more vintage style lumberjack look, consider the budget-friendly Aladdin Heritage Vacuum Bottle.
With the huge attention to the vintage details on this thermos, anyone would believe that you've got this one from a collector's gallery.
However, it features double-wall insulations with stainless steel construction that gives it an unmatched level of durability and heat retention. In fact, this one can keep your beverage hot for up to 12 hours.
We also love the pour through stoppers and the companion cup features that come with the thermos.
Try the Flask Style Classic Thermoses
Back in the day, most classic outdoor travel mugs and thermoses had a flask looking figure. This style was then replaced with the contemporary finishes of synthetic plastics that have a leathery feel.
However, these vintage thermoses have made a comeback recently with the iconic stainless steel lid cups and the textured painted body.
One of the most popular manufacturers of these beautiful thermoses is Stanley. They make the best hammer tone powder coat thermoses with a lifetime warranty for a worry-free purchase.
Our two favorite styles for these travel mugs are Stanley Classic Vacuum Bottle and Stanley Classic Nightfall Vacuum Thermos.
All these thermoses are easy to clean with a wide mouth that you can add ice cubes through for a quick refreshment!
Consider the Wood Finish
Handcrafted from 100% all natural bamboo wrapped around a stainless steel body. Great for hot or cold beverages and fits all standard cup holders to truly improve the daily commute.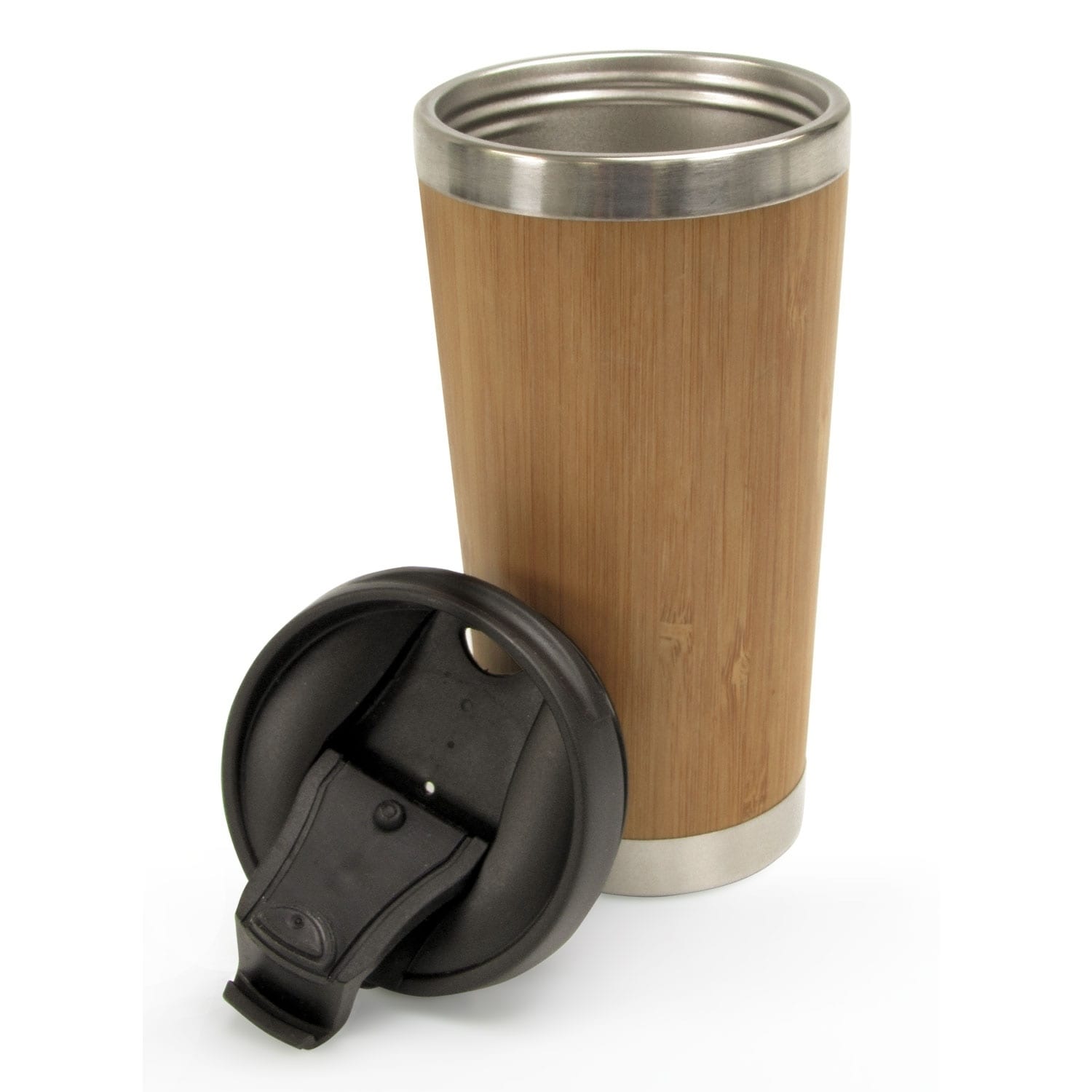 We earn a commission if you click this link and make a purchase at no additional cost to you
Wood finishes have established themselves as timeless designs that always have a warm look that nothing can beat, even the synthetic wood.
Wood never fails to deliver its rustic and cozy vibes by touching or even looking. In the travel mug case, a wooden finish will also double as an extra layer of heat insulation as well as durability.
Luckily, a lot of renowned brands were aware of the benefits of having a wooden finish on a travel thermos. So, here are some of our top recommendations:
Pick an All Steel Look
While most of the previously mentioned entries were mostly made with a stainless steel frame, it's usually covered with a specific material or finish. So how about having an all-steel look with menial distractions?
Similar to wood, plain stainless steel finishes have been super popular in the past and maintained their timeless reputation to this day.
Hipsters like steel finish because they have an eye-catching sheen that gives an excellent contrast with their wardrobe style.
They're also highly efficient and give this "to the point" feel that all vintage enthusiasts know and love!
Looking for a vintage steel finish vacuum thermos? Consider the Isosteel Duo VA-9562DQ Vacuum Thermos on Amazon.
Stay Simple with a Bottle Shaped Vintage Thermos
Sale
The last vintage style thermos to feature on our list is all about simplicity. The best thing about bottle shaped vintage thermos is that they're perfect for all occasions.
You can basically take them along on a workday or weekend and still match the general theme pretty nicely.
If you want that style to be a part of your day, consider the S'well Vintage Rose Bottle Thermos.
Wrap Up
Whether you're at work or hanging out with your friends, having a travel mug that reflects your style is something you should always look for.
So there you have it. A complete list with 10 vintage thermoses that will give you both the rustic vibes of the past along with the functionality of today's world!