Using a retro-camera requires you to think more about the shot you want to capture. Some say the thinking requirement of using an instant camera has caused it to live through the digital age.
If you have ever watched a Polaroid picture develop, you may remember how exciting that was. To wait and watch the image emerge, not knowing how it is going to turn out. 
There is something said about this uncertainty. And holding it in your hands while it is developing, you feel like you created that photograph of that moment in time. Holding the developing photo tangibly is nostalgia and novelty all in one and certainly has contributed to Polaroid's long life.
And with modern takes on the vintage Polaroid camera, you can have that nostalgic feeling again.
Why Use An Instant Camera?
Well, an instant camera allows you to see the outcome of your photography immediately. Did you know that fashion photographers use instant cameras to get a visual idea of how their shoot will come along before they start their main shoot by taking a few Polaroid shots?
For some who grew up with the click and whirring sound at family picture time, owning a Polaroid is pure nostalgia for them.
Even with the instant gratification of digital photography, instant photography with Polaroid cameras, at the end of the day, give you a tangible thing, a realness that you don't get from digital photography. 
Part of why someone starts to use a Polaroid type camera is to be hip. After they use one, they learn that they genuinely like it. 
After the novelty wears off, you may find that you enjoy it still. With so many screens in our lives, having an alternative, screen-less way of capturing our moments is refreshing. It allows us to slow down and create tangible images.
Part of the appeal is that an instant camera photo can't be edited or altered. It is a photo of the moment in its natural state. 
Are There Benefits To Using Film Over Digital?
Yes, the film has better resolution over digital, is less expensive, allows for more extensive, even wall-sized prints, and can create unique photographic looks. 
What is Polaroid's History?
The first-ever Polaroid camera was sold in November of 1948 for $89.95 in Massachusetts. It was the Model 95 Land Camera. 
In that time, before digital cameras and the internet existed, people were amazed by the 'almost-instant gratification' that this design provided. When you imagine what it was like before the instant technology we enjoy today, you can feel how exciting the Polaroid was for people then.
Throwback Polaroid Facts 
Too young to remember when Polaroids came out? Check out these facts so you can be in the know.
Cool Appeal
Just as vinyl records are cool, so are Polaroids. The appeal of a vintage Polaroid is its authenticity and nostalgia. As hipsters are generally contrarian, i.e., opposing popular opinion, an instant camera goes against the digital explosion and allows for quirky photos during an era of digital conformity.
Nonconformity
Did you know that the inventor of the Polaroid was a nonconformist himself? Edwin Land invented an instant-printing film in 1943. He was also a Harvard dropout. 
Loyal Fans
During 2007 with the iPhone's debut, Polaroid went into its second bankruptcy and a year later announced it would no longer make the instant film. A group of instant camera fans sought to buy all of the remaining Polaroid film to keep it in production. This kept them in business until 2017!
Cultural References
Recent cultural references to Polaroid include the song "Hey Ya!" by Outkast with the lyrics, "Shake it like a Polaroid picture." And, Taylor Swift's album cover for "1989" featured Swift in a Polaroid photograph. 
Although Polaroids have enjoyed a rebirth of sorts, they could lose their coolness if they become too common. 
5 Vintage Polaroid Cameras to Delight the Retro Photographer in You
Check out these five vintage Polaroid options to snap your next selfie (yes, selfies were popular before there was a name for them). 
1. Polaroid Originals 4711 Sun 660 Autofocus Camera
The 600 series came out in the 1980s and is a true retro-camera. They are boxy in shape during this decade. The Sun 660 was first released in 1981.
Sonar Autofocus

Takes 600 Film

Prints Instantly

Lighten/Darken Slider

Auto Flash (with override)

80s Model

Refurbished

Optical Zoom: 10

Easy to Use

Point and Shoot
Polaroid's Sonar Autofocus feature ensures your photos are crystal clear. This retro-camera is all the vintage you want and all the functions you need. Want this retro Polaroid Originals 4711 for your own? Check it out on Overstock. 
2. Jollylook Retro Cardboard Instant Camera
Combining the best of instant snapshot gratification with a steampunk-inspired look, this instant camera could give your phone a run for its money. The best part: It's made entirely from recycled paper and cardboard, using less material than the packaging of a conventional camera. Fold out the retro-cool accordion lens, aim, shoot, and turn the crank to see your analog photos in minutes.
We earn a commission if you click this link and make a purchase at no additional cost to you
How fun does this camera look? This camera is made entirely out of recycled paper and cardboard! Get instant photo gratification with a unique retro style.
Steampunk Look

Made from less material than the packaging of a modern camera.

Retro Accordion Lens

Turn Crank to See Your Photo

Uses Instax Mini-Film Cartridges
When using this film, it is crucial to crank your photograph out and return the crank to the start position. Also, do not use excessive force or get the camera wet. Prepared to keep your vintage camera nice and dry? Find the Jollylook Retro Cardboard camera here. 
3. Polaroid Originals Now Viewfinder i-Type Instant Camera Bundle
Polaroid's new point-and-shoot analog instant camera has all you need to catch every life moment in an original Polaroid photograph. Now with autofocus, it's simple to capture moments as you see them, so you can relive them forever in sharp, vivid color.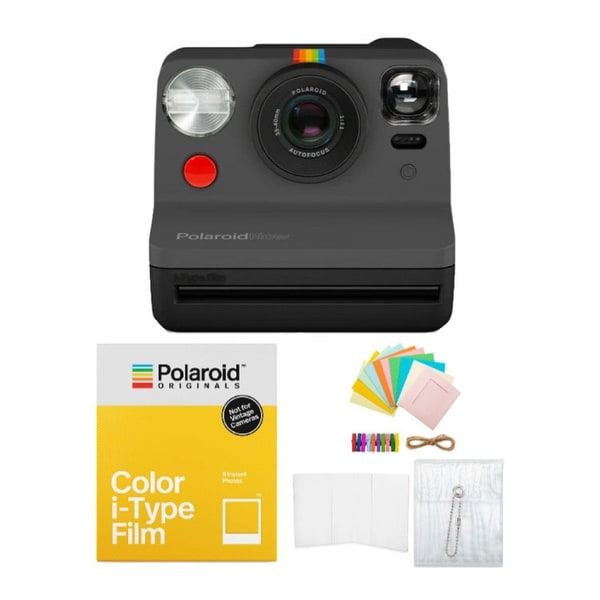 We earn a commission if you click this link and make a purchase at no additional cost to you
This updated version of the classic instant camera may look familiar, but it has been fitted with today's technology to make it better and more functional than the original, with the same simple design but with more control creatively. 
It is more than a memory maker; it is a life accessory. You can get better photos more often and wherever you go, even without the flash.
Point-and-Shoot

Instant Camera

Autofocus

Sharp, Vivid Color

Double Exposure Option

Self-timer Function

Accurate Flash

Creative Control

Clean Design

Vibrant Color

Chooses Which Lens is Suitable for You

Great Photos Even Without the Flash

More Affordable Film than Other Instant Cameras

Get the Best Images Possible

Crisp, Clear, and Colorful

Rechargeable Battery

15-pack Battery Life

USB Charging Cable Included in the Bundle

Neck Strap Included in the Bundle
Polaroid has maintained the retro feel of their camera and photos while simultaneously introducing modern technological features. With modern Polaroids, all you do is "point, click, and print," and there is no requirement for ink, toner, or ribbons. 
Technology has made it possible to capture digital images with Polaroid to save to your phone or PC later. You can also charge the camera by way of a USB cable. 
Taking clear Polaroid pictures is easier now since today's Polaroids have optical grade polycarbonate and acrylic lenses. Don't worry; your photos will still have the classic Polaroid look.
4. Polaroid Now Instant Camera
Capture memories in an instant with this Polaroid camera, featuring built-in features designed for effortless shooting with precise results. Autofocus, self-timer and flash ensure accurate pictures, while double exposure mode offers endless possibilities for creativity.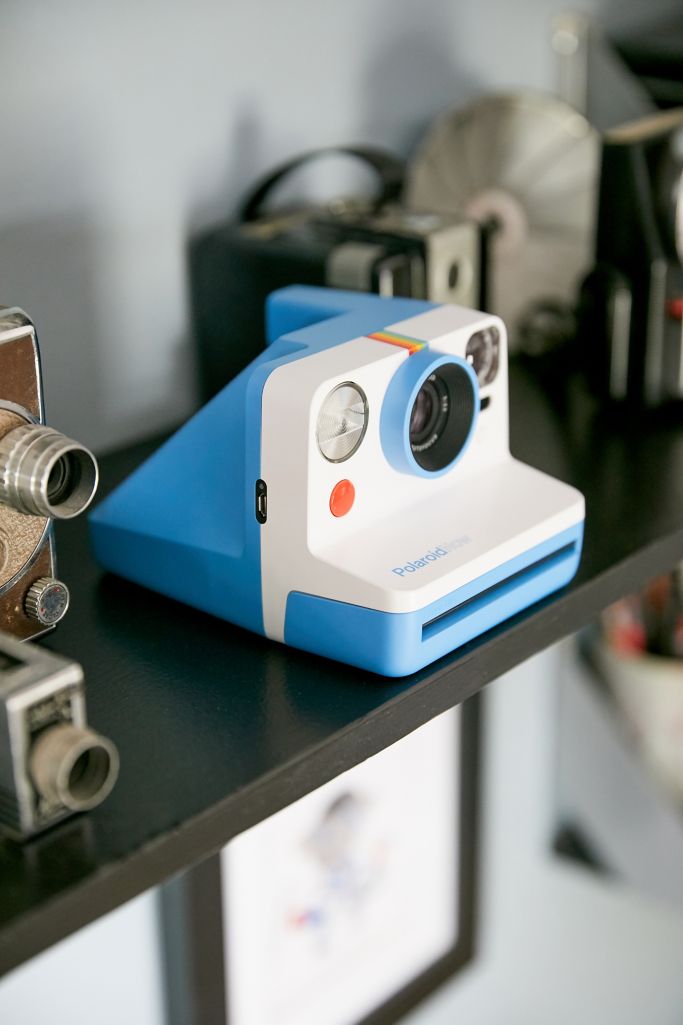 We earn a commission if you click this link and make a purchase at no additional cost to you
Instantly capture memories with this Polaroid instant camera. The built-in features offer endless creative possibilities.
Instant Camera

Autofocus

Double Exposure

Self-Timer

Flash

Compatible with Polaroid i-Type and 600 Instant Film

USB Charger

Several Colors to Choose From

Easy to Use
This model includes a USB charging cable, neck strap, and a quick start guide. It's not totally authentic, but the Polaroid Now Instant Camera is a decent modern compromise. 
5. Fujifilm Instax Mini 9 Instant Camera
The Instax Mini 9 gives you that old-school feel of an instant camera with modern functionality. Instant cameras of old just had a flash; this updated version has automatic exposure, effective flash range, macro lens adapter for close-ups, and 'high key' mode that helps you take brighter, softer pictures; perfect for portraits.
Uses AA Batteries

Selfie Mirror

Photo Size is 62 X 46 mm

Shutter Speed is 1 per 60 Seconds

Macro Lens Adapter

Automatic Exposure

Flash

Brighter Photos

Comes in Several Color Choices

Easy to Use
With the Instax Mini, the film is inkless and comes in packs of 10 photos. Mini-film comes in color and in black and white (which is more expensive). You can also get film that has various borders that will show around the edge of your photo.
Final Thoughts
So, you may be wondering, with all of the advances in technology, why are people still using Polaroid cameras? Some say that with the Instagram application in 2010 came renewed popularity for instant cameras as the platform has a square photo format and even has filters which age the image to make them look vintage.
With its instant printing of your photo, a Polaroid camera gives you an instant souvenir of your adventures. Most digital images get sent via e-mail or over social media; most are never printed. It is said that the old-school charm and nostalgia have contributed to Polaroid's long life.
Technology has made a lot of things in our lives easier, including photography. In today's world, a photographer can take 50 photographs, go through them, and pick the best one or two. With a Polaroid, that would take a very long time and would be impractical. 
But you can't argue that a Polaroid that prints a real, live photo within seconds doesn't hold nostalgic appeal. Fortunately, you don't have to pine over Polaroids past any longer with these vintage picks.