Invested a lot of time, energy, and money into your garden and looking for a stylish way to showcase your beautiful plants while staying true to your hipster spirit? Then you need a vintage planter stand to proudly display your gorgeous plants for the world.
Luckily, there's a wide variety of designs when it comes to vintage planter stands, as well as a generous range of sizes and materials to suit any indoor or outdoor garden. Here are 12 vintage planter stands that'll up your garden decor game to a whole new level.
Take Your Plants for a Spin – Tricycle Planter Stand
Sale
Sorbus Tricycle Plant Stand - Flower Pot Cart Holder - Ideal for Home, Garden, Patio - Great Gift for Plant Lovers, Housewarming, Mother's Day - Parisian Style (Black)
TRICYCLE PLANT STAND — Beautifully display plants, flowers, and garden decorations on a decorative tricycle stand—Features 3 round, basket-style tiers to keep planters...
STYLISH & DECORATIVE — Whimsical Parisian style Tricycle, complete with scroll wheel details—Gives a playful touch to any space — Charming focal point to patio, home,...
INDOOR/OUTDOOR — Place indoors: entryway, living room, sunny window, stairwell, screened patio — Place outdoors: porch, cactus garden, pool area, balcony, rooftop,...
Ever thought about teaching your plants how to ride a bike? No? It's okay no one ever did. But that didn't stop some creative folks from designing a planter stand that looks like a vintage tricycle.
This whimsical Parisian style planter stand will beautifully display your green life while adding a playful touch to your garden or patio. You'll typically get 3 round, basket-style tiers to securely hold your plant pots.
Want your own vintage tricycle planter stand? Check out this wrought iron tricycle plant stand from Amazon.
Pair them in Baskets – Metal Potted Planter Stand
If you're a fan of metal construction and curved lines, then you're in for a treat! A metal planter stand with a vintage curved 3-leg design simply combines the best of both worlds to satisfy your decorative needs.
Such stands are often very solid and sturdy. But if you're worried about your plants falling off (because of kids or pets running around), you should pick a potted model to safely hold your plants.
Need a vintage metal potted planter stand? Here's a double-decker design from Amazon.
Plants Greetings – Hanging Basket Planter Stand with Welcome Sign
Looking to brighten up your exterior spaces? Perfect for adding a charming touch of welcome to any front door, this plant stand is a great way to refresh your home. Featuring a powder-coated steel frame in a black finish, this hanging, coco-lined planter is a great option for a flower bush's pop of color. A welcome sign and scroll accents round out this charming 48'' H x 16'' W x 14'' D touch.
We earn a commission if you click this link and make a purchase at no additional cost to you
A smart yet charming way to welcome your guests at the front door is to let your plants do it.
Unfortunately, scientists didn't manage to breed talking plants (yet), so you'll have to settle for the next best thing: a planter stand with a built-in welcome sign.
Such a design of planter stands usually comes with a hanging basket to house the plant pot while a welcome sign is fastened above the hanging plant.
In the market for a greeting planter stand? Take a look at this black steel, coco-lined planter stand.
All About the Details – Metal Scroll Planter Stand
If you like pieces with lots of detail, then you should consider a planter stand with platforms featuring vintage scrollwork.
Almost always constructed out of metal, particularly cast iron, this type of plant stands is extremely sturdy and grounded so it won't tip over easily.
To really let the intricate swirls and spirals of the scroll pattern shine through, you should get a model free of protective edges.
This will allow the details of the scrollwork to appear clearly even if you place plants on top of the platforms.
Ready to organize your plants in style? Check out this rustic 2-tier planter stand.
Vertical Vintage – Wall Planter Stand Holder
Flower potholder, ideal for holding flowers and plants and taking advantage of vertical gardening space.
We earn a commission if you click this link and make a purchase at no additional cost to you
Not everyone is blessed with a house large enough to accommodate a spacious garden, which is why many people look for practical solutions to try and expand their green patch.
One popular idea you can consider is making use of bare walls inside your house or on your patio.
To achieve this, you'll need a planter stand that you can mount onto a wall. Once fastened, the stand will simply hold the plants vertically.
Not only is this type of planter stands extremely practical, but it also comes in a wide range of designs including vintage.
Want to start your own vintage vertical garden? Here's a wrought iron wall planter stand from Wayfair to get you started.
Simply Vintage – Bamboo Planter Stand
Imported set of three bamboo plant stands that is intended for indoor use only. It comes with sizes: Small: 21.5H, 10.5 diameter / Medium: 22.5H, 12.5 diameter / Large: 29.5H, 14.5 diameter.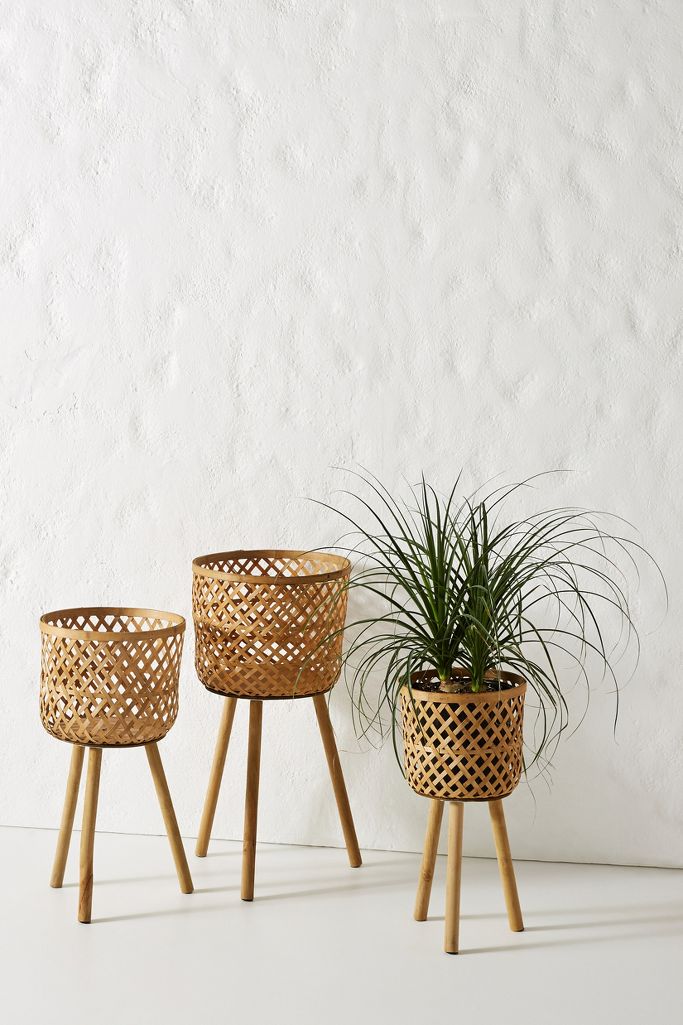 We earn a commission if you click this link and make a purchase at no additional cost to you
Vintage designs aren't exclusive to metal planter stands featuring scrollwork. There are simpler approaches that can give your garden a vintage look and also serve as an elegant focal point.
One of these simpler solutions is setting up bamboo planter stands. This material adds a naturally vintage vibe to your surroundings, which makes it ideal for indoor use.
Bamboo is a generally flexible material, so you'll find such plant stands available in a wide variety of patterns to pick from.
Looking for simple bamboo planter stands? Check out this sand-colored set of 3 bamboo stands.
Antique Collector – High-Wheel Bicycle Planter Stand
Not everyone can visualize a high-wheel bicycle by name, but if you tell them "it's that old bicycle with one large wheel in the front and a tiny wheel in the back", most people will know what you're talking about.
You can even see Chris Pine riding one to Stop Anne Hathaway from getting married in The Princess Diaries 2.
High-wheel bicycles were pretty popular back in the late 1880s, and nowadays, these things are considered antique pieces.
Non-functioning versions of high-wheel bicycles make for lovely accessories to decorate your house and even more gorgeous planter stands that add a unique vintage charm to your garden space.
Want to bring the bygone era to your garden? Here's an adorable high-wheel bicycle stand with 2 buckets to hold your plants.
Rustic Steps – Ladder Planter Stand
Show off your potted plants in style with this rustic plant stand. A functional piece you can use inside and out, this multi-tiered plant stand allows you to showcase your vibrant greenery (and green thumb) all year long. Crafted from engineered wood, it features distressed details and a natural woodgrain hue for a weathered look. The fold-away option makes storing in small spaces a breeze. And with different-sized tiers, you can easily place smaller plants on the top shelf and larger plants on the bottom.
We earn a commission if you click this link and make a purchase at no additional cost to you
Ladder-style display units are gaining huge popularity thanks to being both functional and stylish.
Typically made of wood or metal, these rustic plant stands allow you to show off plenty of your vibrant greenery without taking up too much space. They distress details to accent the vintage look.
As multi-tiered stands, you won't have to worry about making room on the stand for new plants, you can buy units with as many tiers of different sizes as needed.
Ladder plant stands often come with a foldable option, which makes storage a breeze.
Time for you to own some rustic steps? Take a look at this vintage 3-tier plant stand with a natural wood grain color variation.
All Wood – Pine Column Plant Stand
Plant stand that is made with wood, square-shaped and with gray color. Its weight and dimensions from top to bottom is 12 inches; side to side is 11.5 inches; front to back is 11.5 inches; and product weight is 7.9 lb.
We earn a commission if you click this link and make a purchase at no additional cost to you
Not many things scream vintage as weathered wood does, so if you find a planter stand made with such a material and finish, you better snatch it right away.
This kind of plant stands will give your garden a rustic-chic theme, especially if it's an outdoor space. You'll seem as if you've chopped a tree and cut it into a stand, while the faded finish will trick people into thinking you did it decades ago!
If you're going with a wood column stand, make sure it's not too heavy so you can easily move it around.
Searching for an all-wood planter stand? Here's a pine column plant stand with a vintage grey finish.
A Little Lift – Short Planter Stand
Achla Designs Piazza Flower Pot Plant Stand, Large
Short stand for potted plants – the tops of these Piazza plant stands are circular and have two cross bars on which you can set flowerpots and other round planters in a...
Great for indoor and outdoor use – These decorative plant stands have a traditional design that looks great in the home and in the yard. Lifting plants allows for better...
Simple design: Piazza plant stands are made from two crossed pieces of iron, gracefully curling into the four feet of the stand. The metal is hammered so pots sit flat and...
If you're not interested in a grand multi-tiered planter stand and just want a simple unit for a plant or two, then you should look in the short plant stand department.
These stands are usually made from wrought iron featuring a traditional design with curved legs. They're suitable for indoor and outdoor use, allowing for better drainage and air circulation in any garden.
Short planter stands are also available in various sizes to match your needs, however, each stand is meant to accommodate one plant only.
Ready to start a mini garden on your patio? Here's a short wrought iron stand with a vintage design to get you started.
Vintage Meets Contemporary – Metal/Wood Planter Stand
This Three Hands metal/wood plant stand in black metal will add contemporary style to your space. This piece is sure to impress your guest, great for all decorating styles.
We earn a commission if you click this link and make a purchase at no additional cost to you
Decorative pieces that use metal and wood combos are uniquely beautiful. They combine elements of the vintage style with aspects of modern construction to produce items that satisfy both tastes.
One particularly elegant example of these stands features a metal base, preferably black, and a wood platform with a weathered finish.
This design is vintage to look at but modern enough to suit any decorating style. Not only will such a piece impress all your guests, but you can set it up indoors or outdoors and it'll fit right in.
Searching for a metal/wood planter stand? Check out this black rustic piece from Wayfair.
Victorian Beauty – Vintage Iron Cage Planter Stand
This Vintage Style Cage Plant Stand offers a multitude of functions. Use to display large plants and flowers, fill with decorative items, or use as storage. Despite its many uses, this piece is a standalone beauty, featuring Victorian-style designs and a gorgeous antique finish. - Indoor/Outdoor safe - Crafted from powder-coated iron - Weather & rust-resistant - Hand painted distressed finish - Bottom shelf for added storage Product Dimensions: 19.68 L x 10.62 W x 42.52 H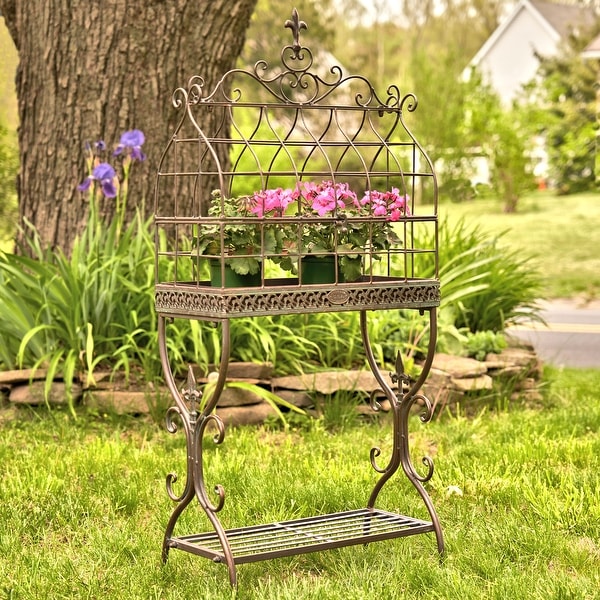 We earn a commission if you click this link and make a purchase at no additional cost to you
Last but definitely not least, consider going for a vintage style cage planter stand. Despite being a standalone beauty with Victorian-style patterns and often an antique finish, such a piece offers multiple functions for its owner.
You can use it to put large plants and flowers on display, fill it with decorative items, or even use it for storage. Some models come with extra bottom shelves to boost the storage capacity.
In the market for a vintage style iron cage plant stand? Take a look at this bronze Victorian-style cage stand.
Wrap Up
There you have it – 12 vintage planter stands to transform your indoor or outdoor garden into a place of rustic beauty.
Before buying your vintage plant stand, you should take into account how much space you can work with and the number of plant pots you need to showcase. We included a variety of designs to accommodate different space requirements, but be sure to check out the stand's dimensions before purchase.