If you're in love with everything hipster, chances are you've incorporated hipster/vintage style furniture around your house. So you got the hipster vibes on point at home, but what about your office?
If you're looking for ways to bring some style into your otherwise bland office, then you need a vintage office chair.
These will add that hipstery factor to your work environment without taking away from its professional feel. Here are 9 vintage office chairs to help you do business in style.
Show Who's Boss – Wingback Chair Edition
If you talk the vintage talk, then you should also walk – or in today's case, sit – the vintage walk. A wingback chair is an awesome representation of vintage furniture in an office setting.
These chairs typically feature a classic button tufted design, which is a timeless staple piece for vintage decor. There's no mistaking it either, people visiting your office will be able to tell it's vintage right away.
Wingback chairs aren't just stylish, but they also tend to be extremely comfortable. I mean, if this chair can support the infamous Neo when choosing the red pill, imagine what it'd do for your work attitude.
Ready to show everyone who's boss? Check out this wingback chair with an elegant mahogany wood finish and a gorgeous hand-applied brass nailhead trim.
All About the Hustle – Leather Executive Chair
If you often spend your days at work in a constant state of hustling, then your vintage office chair should match your demanding position and active pace. Three words come to mind that fit the criteria: leather executive chair.
If anything is going to keep up with your upbeat work hours, it's going to be an executive chair.
Leather upholstery will give you the vintage look you're seeking, while the high back design will provide a sleek and professional vibe. It'll look classic, sophisticated, and it'll deliver reliable support for day-long comfort.
Need your own vintage leather executive chair? Here's one upholstered in bonded leather with a Pewter finish frame and a contoured back cushion.
A Touch of Contemporary – Segmented Suede Office Chair
What happens when a vintage design meets contemporary construction? Well, you get a segmented suede office chair of course!
The use of suede fabric delivers a rustic feel that adds an instant sense of familiarity to your workplace. This is a highly sought after characteristic in vintage furniture.
Not to mention that suede is a soft and warm fabric, which means it'll cause no irritation if you remain seated for many hours and it won't feel cold when sitting or touching in the winter.
The ribbed style upholstery does provide an old-school vibe, but the modern-day execution of these segments will give you the needed support for your lower back during work.
A segmented suede desk chair is a great fit for either a home office or a professional establishment office, bringing polished vintage elegance no matter where you put it.
Want a segmented suede office chair? Take a look at the OVIOS ergonomic office chair with height/back adjustment and swivel function.
Vintage But Functional – Upholstered Tulip Chair
This swivel office chair - good looks with practical functionality -when you want style, ergonomics, ease of use and affordability (in short, everything), this adjustable office chair rises to the occasion.
We earn a commission if you click this link and make a purchase at no additional cost to you
A lot of people think that you can't get a vintage office chair if your office is on the smaller side. That's not true, in fact, there are plenty of chair designs that are both classic and space-saving to help you make the most out of your limited space.
One of these designs is the tulip chair. Unlike grand "big office chairs" such as the wingback or the executive, a tulip chair doesn't involve extended armrests or bulky backs.
With a tulip chair, you're getting a compact design with armrests "built-in" to keep you comfy without taking up extra space. But how do you make such a modern-day chair vintage?
Well, if your tulip chair features leather upholstery throughout its entire structure, then it can definitely join the old-school club. For extra retro measures, go for a rustic tufting pattern.
In the market for a vintage tulip chair? Here's a leather tulip office chair with an elegant diamond tufting pattern.
Industrial Inspiration – Wood and Iron Office Chair
The DuBois Genuine Leather Task Chair is a beautiful rustic industrial piece to add to your office for comfort and functionality. It is made from top-grain leather, fireproof foam as well as wood and iron framing.
We earn a commission if you click this link and make a purchase at no additional cost to you
Taking inspiration from converted lofts and old factories, the combination of wood and iron in an office chair is a very simple way to execute a vintage design without adding tufting details.
The contrast between the construction materials creates a rustic industrial-chic piece that's worthy of display and use in your office. In this case, you don't need to go overboard with prominent armrests or even a high back design, an iron frame with wooden accents will get the job done just fine.
As far as upholstery materials go, such an industrial-inspired piece would greatly benefit from leather upholstery, particularly if you use natural color palettes with weathered detailing to give you a worn-out feel.
Need your own wood and iron piece? Check out this beautiful industrial piece made from top-grain leather, wood and iron framing, as well as fireproof foam.
Blast from the Past – Wood Banker's Chair
Create a classic look in your office with this wood banker's chair from Copper Grove. The cushioned vinyl seat lets you work in comfort, and the pneumatic height adjustment allows you to sit up to your desk at an ergonomically correct angle. Lock this banker's chair into your favorite angle with the adjustable tilt tension.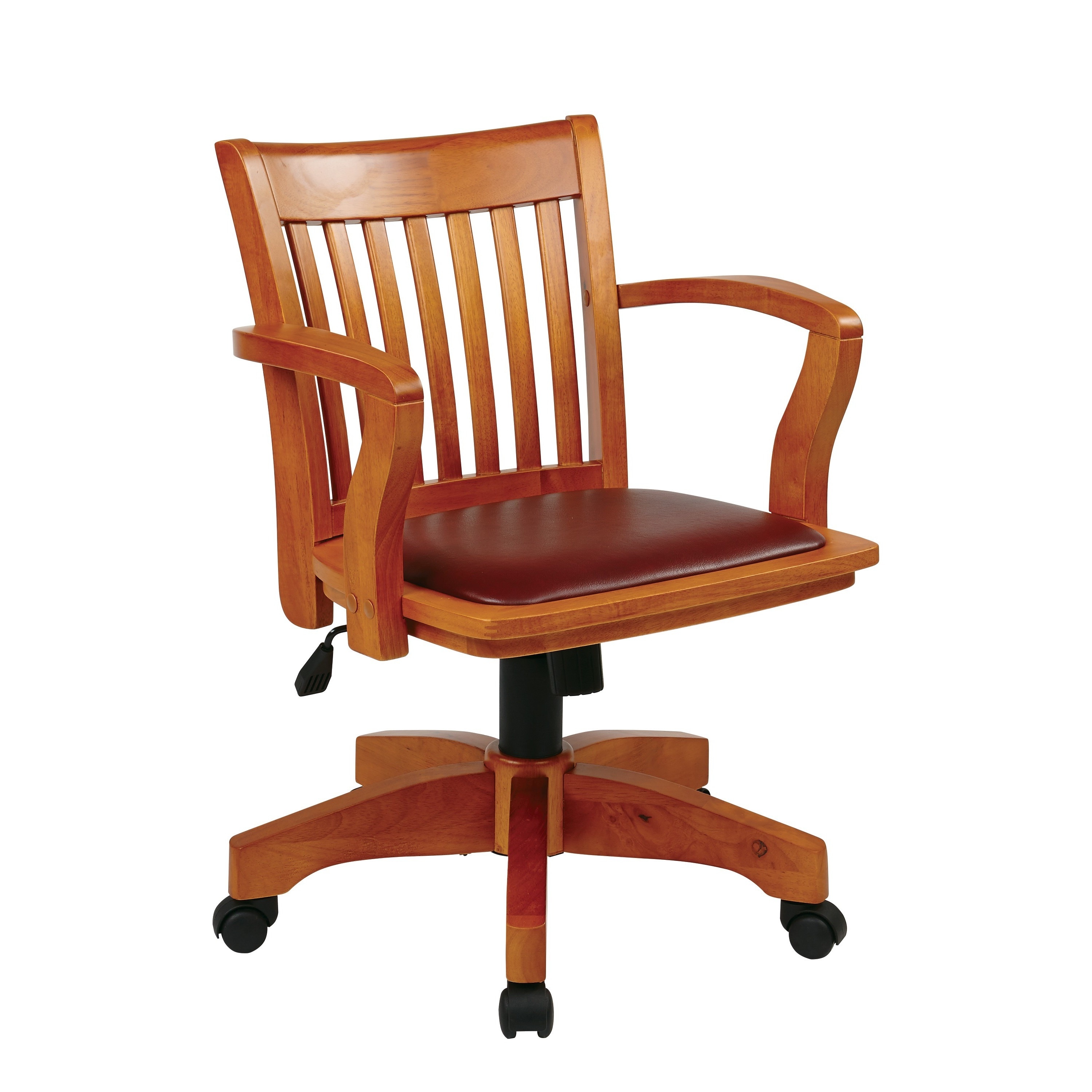 We earn a commission if you click this link and make a purchase at no additional cost to you
It's no secret that the best office chairs are those that provide adequate support and comfort needed by professionals for extended periods of sitting. One particular design that's known for offering exactly this, is the banker's chair.
A banker's design features the unmistakable back slats and wood finish, which makes it ideal for pairing with any vintage decor. People have been using banker's chairs for decades, so you can rest assured it'll deliver comfort and visual appeal to any office setting.
Being mostly made of wood, banker's office chairs are available in various finishes that complement any workplace. These include:
Fruitwood finish for traditional and casual decor.
Black finish for added elegance, usually paired with leather, metal, and glass.
Dark finishes such as cherry and espresso for a professional look.
Choose the finish that works best with your office space decor since your banker's chair will give a retro vibe no matter what.
Want a banker's office chair? Here's one from overstock available in fruitwood finish with a brown or black vinyl seat.
Oversized Comfort – Box Office Chair
The Brancaster executive office chair adds a modern touch to the classic design. This gorgeous office chair features top-grain leather in a vintage black finish and metal 4-starbase. Offering 360-degree swivel and adjustable height function, it creates a more enjoyable sitting experience.
We earn a commission if you click this link and make a purchase at no additional cost to you
The box chair design is the go-to choice for many professionals in need of as much comfort as possible throughout their demanding work hours. As you can imagine, a box chair will quite literally feature a boxed or cubed design with angled armrests and an angled base.
As a result, this type of office chair requires enough space to accommodate its rather large footprint. So if your office doesn't offer lots of room, a box chair may not be the best choice.
That being said, you should know that the box style is considered a modern design for chairs, so to give it a vintage look you'll need to carefully choose the fabric or finish. Since leather tends to work beautifully with box chairs, you can pick a leather chair with a faded or weathered finish to achieve a rustic feel.
Searching for a box office chair with a vintage twist? Check out this box chair featuring top-grain leather in a vintage black finish and metal 4-starbase.
Cozy Elegance – Striped Office Chair
The Willa Office Chair with arms adds a touch of vintage flare to your home or work space. The fabric is a trend right tonal stripe. Complete with adjustable height, padded seating and five point base with rolling wheels. This piece will make for a more comfortable yet stylish work space.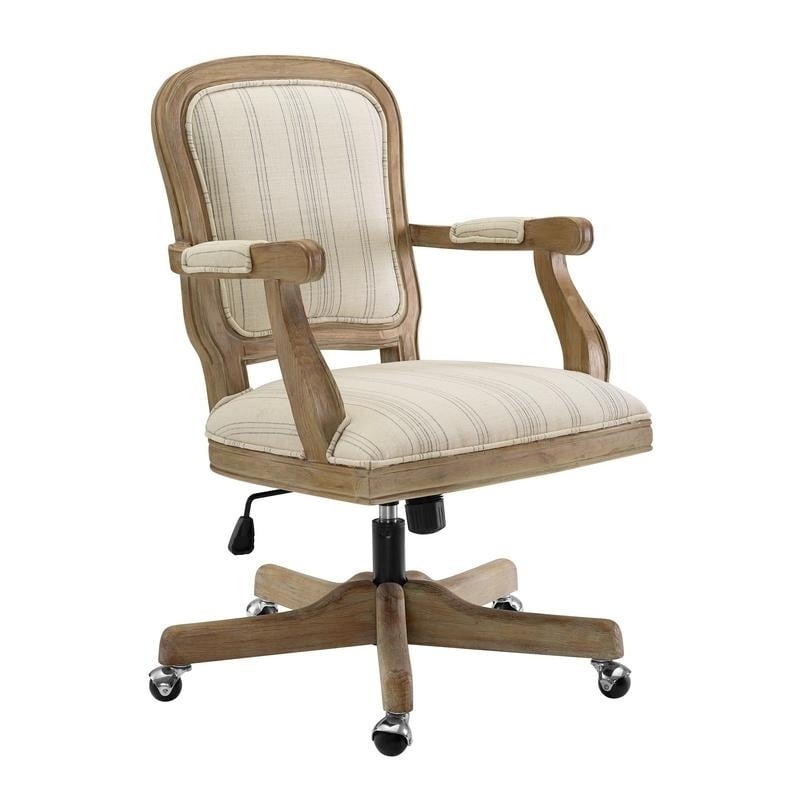 We earn a commission if you click this link and make a purchase at no additional cost to you
Nothing is more vintage than a classic living room, so how about an office chair inspired by classic living rooms?
This is a fantastic idea for professionals with a hipster's heart to warm up their office space and create a cozy environment for long days.
Such chairs are typically made of natural wood, but you can also find some models made from engineered wood (such as MDF wood) to reduce costs. Being mostly wood, these chairs come in a range of finishes to suit your office decor.
As for upholstery, you can choose a chair with leather upholstery paired with a dark cherry finish for a more sophisticated look or fabric upholstery with tonal stripe for an extra vintage feel.
Need your striped office chair? Here's one with a light color scheme to add a homey touch.
Minimalistic Vibes – Mid-Century Desk Chair
An ergonomic, adjustable desk chair + gorgeous mid-century piece all-in-1? Dream no more. The Lombardi desk chair has it all with a cushy faux leather seat + supportive pintucked seat-back framed in birch wood with a richly varnished walnut veneer. On a boldly lacquered metal swivel base with a lever for adjusting to just the right height.
We earn a commission if you click this link and make a purchase at no additional cost to you
Office chairs inspired by mid-century pieces are extremely popular among professionals trying to establish a modernized vintage office decor.
Typically, these office chairs don't take up much space, often used to achieve a minimalistic look with clean lines and sleek edges.
You'll also find mid-century office chairs to be rather ergonomic, which means they don't take up any extra space than necessary. As a result, they don't feature bulky armrests or high backs.
Mid-century office chairs are often made with a combination of wood framing and leather accents.
Interested in a mid-century office chair? Check out this gorgeous piece from urban outfitters.
Wrap Up
There you have it – 9 vintage office chairs that'll keep your workplace professional while adding a unique touch of hipster style.
Although all the options we mentioned above are excellent solutions to give your office a vintage feel, you should choose a chair design that best matches your office decor and size as well as your seating preference and budget.