Halloween, a beloved American pastime, and this year you're planning a vintage-inspired costume. Not only will the following costume ideas create a memorable Halloween costume but are ideal for every costume party, or a fun dress-up day.
Perfect Your Halloween Hipster Costume
Fashion over the last 50 years was explosive and remarkably different from one decade to the next. Halloween is the one time of year you get to push yourself outside of your comfort zone and embrace your inner-hipster.  
Some of the top things to think about in perfecting your hipster look:
Clothes: pants or skirts, a t-shirt or cardigan, jeans or petty-coat

Shoes: patent leather or saddle, loafers or creepers, bareback or pointed

Hair: ducktail or pompadour, ponytail or pigtails, bouffant or pixie cut

Makeup: red or pink lip, pencil or liquid eyeliner, blue or hot pink eyeshadow with aquamarine or brown mascara

Accessories: handbags, watches, glasses, hats, neckties, money clips, wallets, scarfs
The critical thing to remember, this is a hipster Halloween costume. Hipsters are all about stepping outside the norms—mixing the old with the new—which you will find in this fun two-minute highlight on hipster fashion tips.
The 1980s—Big Hair, Mullets, and Glam
The 1980s had the largest number of recorded one-hit songs, accompanied by BIG HAIR, mullets, and glam makeup. As fast as those fashion trends arrived on the scene, they disappeared into the proverbial fashion ether.
A look back on the 1980s big hair movement, and you'll find Whitney Houston, Jon Bon Jovi, Dolly Parton, Tina Turner, and Cindy Lauper, to name a few. Here's a head to toe fashion overview of fashion terms from the 1980s.
Starting with BIG HAIR, a chemical process, better known as a perm for both guys and gals. Although you can safely achieve this look at home using a curling iron, crimper, or even a wig. 
For gents interested in the infamous mullet, the least expensive route is a wig. If a return to mullets is a look you seek to achieve, grab this chill mullet wig to top off your costume.
The 1980s saw a wave of neon colors from makeup to clothes. Both sexes began wearing makeup in the 1980s. If you're looking to kill it with neon makeup, ladies, snag this neon makeup to complete your 80s look.
Big rock bands like Kiss were wearing makeup back in the 70s, but the boy hair-bands of the 80s, like Quiet Riot and Mötley Crüe, toned it down a bit, often wearing black eyeliner. Ladies often wore neon pink lips gloss, roll-on gloss, neon blue, green, or pink mascara.
Some other popular trends include:
The 1970s Bell Bottoms and Tie-dye
Authentic bell bottoms jean from the 70s. Thick dark blue denim with orange stitch. Very nice stonewash. High waist. 2 front pockets / 2 original back pockets Bell bottom. Label on right back pocket.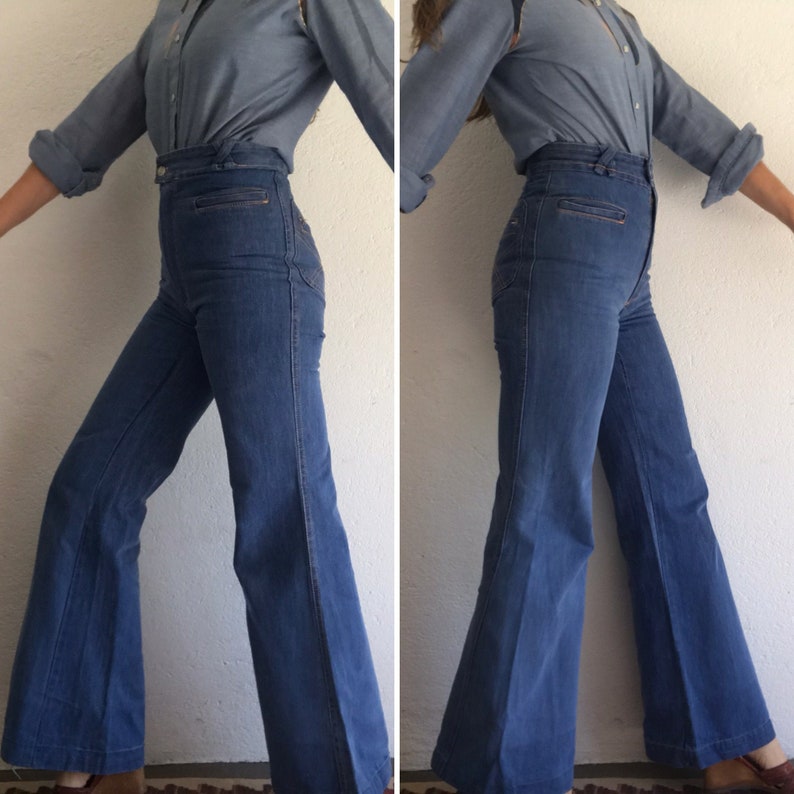 We earn a commission if you click this link and make a purchase at no additional cost to you
Fashion in the 1970s was iconic, despite the blurred lines between the late 1960s and early 1970s fashion trends.
Tye-dye was a carry-over from the late 1960 psychedelic colors. Although the 1970s, fashion trends embraced pastel colors for men and women.
Women were showing more skin as the sexual revolution took off. Some other popular 1970 trends:
The Groovy 1960s
Womens Hippie Waistcoat Costume Adults 60s & 70s Fringed Hippy Top - Small
HIGH QUALITY WOMENS FRINGED HIPPIE WAISTCOAT: Packet contains a fringed brown waistcoat with peace logos.
SIZES THAT FIT: Our womens size Small is suitable for US Size 4-6. Bust: 35 inches. Waist: 27 inches. Hips: 38 inches.
BUY YOUR ADULTS 70s HIPPIE COSTUME ACCESSORY IN CONFIDENCE: With our no-quibble returns policy and by using Amazon to ship and send our items, we offer our customers a...
The 1960s were a polarizing time. The early 1960 fashion trends began with First Lady Jackie Onassis Kennedy and ended abruptly with her husband's death in 1963, 35th President, John F. Kennedy. 
Then arrived on scene the Swinging London culture with youthful mini-skirts and knee-high boots and pixie hair-cuts made famous by supermodel Twiggy and stage actress Liza Minnelli. Finally, the 1960s wrap-up with the hippy styles of Jimmy Hendrix and John Lennon.
The Iconic 1950s
When we think about the 1950s, it should conjure up ideas of soda shops, the last known decade that girls and boys knew how to dance with a partner, muscle cars, poodle skirts, saddle shoes, and sock hops.
Women's hairstyles ranged from the ponytail to the

bouffant or updo

. Planning on tackling the bouffant; remember it's all about teasing your hair over and over again until you've achieved the right look for you. Men would style their hair into ducktails and

pompadours

. But, above all else, men were clean-cut and clean shaved every day.

Pencil skirts and

poodle skirts

were popular favorites among the ladies, but so too were the forever beloved clam digger, still trendy by today's standards. A true classic!

Men rolled up jeans right at the ankle, a plain white t-shirt covered by a black leather jacket can bring up images of James Dean.

Accessorize ladies by reaching for your favorite square scarf and wrap it around your hair to keep that beautiful bouffant in place. Gentlemen, keep a thin black comb in your back pocket; it was trendy then; maybe you can reinvigorate that trend.
The 1940s Big Band Sound and "Rosie the Riveter"
In the 1940s, big band and patriotism made America in that decade. It was the time of "Rosie the Riveter." A time when women were playing baseball and working on assembly lines. Women finally got a sense of independence, and clothes were no different. The first part of that decade had women in pants for the first time in history. Although the pants didn't precisely fit just right, designers today reinvigorated a chic design with an expensive price tag.
Final Cut for Perfect Hipster Halloween Costume
Whatever you decide on for your fabulous hipster look this Halloween, remember to look through your closet first. Halloween is a fun time of year for adults, as much as it is for kids.
We all know Halloween is a gender-free holiday too. So, don't forget to let loose and stretch your creative boundaries a bit. 
Dig through your old dresser drawers, call up your parents or grandparents. They likely still have some fun vintage clothes, shoes, hats, and scarves lying around from their younger days.
You can also make a day of it and shop at your local vintage or antique shop. Places like this always have great memorabilia. 
Hipster or not, have fun mixing up the fashion eras to keep everyone around you guessing. Hipster is a vague term, loosely used even in today's standards, and remember to always draw on historical fashion trends that can be updated.
Now that you have all you need to know about dressing like a hipster this Halloween, you should have no problem coming up with an extraordinary hipster outfit for a fun night out on Halloween. You might discover you like the look so much that your inner-hipster is ready for a full-time look.